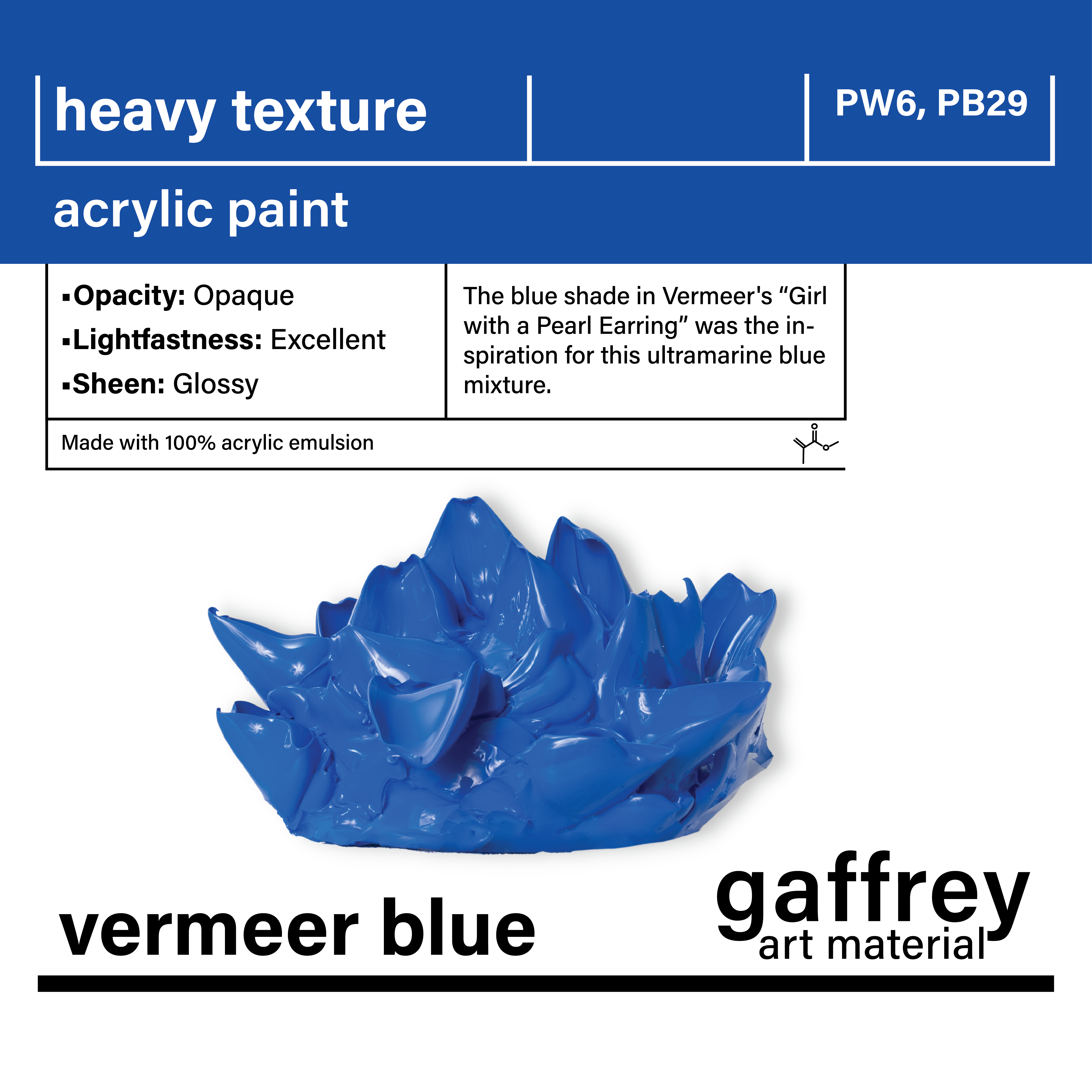 Vermeer Blue Heavy Body Texture Acrylic Paint
Choose Size/QTY and Then Add to Cart
Our Vermeer Blue is an ode to the classic painter renowned for his realism and mastery of light. He's notorious for using the exorbitantly expensive Lapis Lazuli (natural ultramarine) in contrast with a limited palette of browns and grays. You can find this color on the headband of "The Girl in the pearl earring" ( in the remake sculpted completely out of Heavy Body Texture by our own Justin Gaffrey Jr.) We love using this color for skies in landscapes, and for wild waters in seascapes. This color has huge capabilities when mixed with our Acrylic Artists Collection; imagine creating your own lapis lazuli gems, or bring a splash of freshness to your sculpted flower scenes.  
This color is important to us at gaffrey art material. Vermeer has been an inspiration for the Gaffreys, and designing a color they felt was true to his style was imperative when designing this formula. We worked with it ourselves, till we felt the color had the impact it has in those famous paintings we love. 
Vermeer  consists of Ultramarine blue and Titanium white pigments. Ultramarine blue was the pigment famously made from lapis lazuli. Now its often made of some fancy stuff called complex sodium aluminum sulfosilicate, but what really matters is how it performs. Ultramarine Blue is a gem regarding lightfastness, meaning it won't fade away with time. It's like the rock-solid foundation of your artwork with its semi-opaque opacity, giving you that solid color you're aiming for.
---
I love this paint!
I found Gaffrey Heavy Body Texture Acrylic paint a couple months ago and can't stop using it! It is a nice thick medium and the color pigment is super saturated.
I have started to paint again after a few years. I love abstract. Your paint is amazing I enjoy the results I'm creating. I want to continue and have sone peices to show at sone local shows. Thank you. Hope we work together a lot. 😎🌴
Such a unique and distinctive color
I really appreciate this color and I find myself charmed by it over and over but one of my favorite painting is still a gorgeous sunflower I made when I first started.
Vermeer blue
I love this color of blue! All of your heavy textured paints are perfect for me and I can't wait to receive the order I just placed! Take the chance to purchase some for yourself! You won't be sorry!!