Rose Quartz Heavy Body Texture Acrylic Paint
$8.00
Regular price
$16.00
off
Description
Technical Details
Gaffrey's Heavy Texture acrylic paint is unlike anything you've ever seen from your regular heavy body acrylics. We like to think of them as texture acrylics that blur the boundaries between painting and sculpting.
This professional-grade artist paint is incredibly thick, buttery smooth, and heavily saturated with pure pigments, making it more like the consistency of an ultra heavy gel medium – on steroids. Formulated with 100% acrylic emulsion and pure pigments, our signature heavy body acrylic paint contains no fillers or toxic additives and is completely waterproof when dry (seriously, you can see a video of Justin hosing down one of his paintings on Instagram).
Create uniquely textured paintings by carving into the pigment-rich colors with knives, brushes, and other tools without additional thickening mediums. You can even use traditional piping techniques with our piping tips to get something really different.
Our acrylics work in unison with the full range of Gaffrey products. Mix and match textures and tools to evoke a sense of liveliness and depth in your artwork that only our products can accomplish.
•Pigment Classification: Naturally Occurring
Inorganic & Synthetic Organic
•Color Index Number: PW6, PO5
•Opacity/Transparency Opaque
•Sheen: Glossy
•Lightfastness: Very good
•Pigment Description Rose Quartz has a pale and dusty hue reminiscent of your grandma's bathtub. This bright color has a vintage feel with a modern shine to it.
Rose Quartz Heavy Body Texture Acrylic Paint
$8.00
Regular price
$16.00
FAQ
How long does it take to dry?
Dry times are based on the amount of paint used, temperatures, and humidity levels. You will notice the paint film forming after 30-60 minutes and the paint will be tacky to the touch. Once the paint film is set, the paint will take several days to a week to fully dry. Lower temperature and higher humidity levels will extend the dry time. Constant airflow from a fan will speed up the drying process, as will access to the underside of the canvas or board.
Does your paint crack?
On its own will not crack. Our formula is designed to be flexible and durable once dry. Certain factors may cause the paint to crack; such as diluting with water, mixing paints or mediums from other brands, applying the texture to uneven surfaces or canvas, adding too much medium viscosity colors, and extreme temperatures.
Do I need to varnish over the texture areas?
Varnish is optional. Our acrylics are archival quality and adding a varnish is up to the artist's preference. We currently do not offer varnishes so exercise caution when using from other brands. We are not responsible for the effects a varnish may have on your artwork if it causes unwanted effects.
What does the paint look like once dry?
Our heavy texture acrylics have a glossy finish that looks the same wet to dry in most cases. All acrylic paints will dry slightly darker due to the milky color of acrylic emulsion when wet. Shrinkage will occur once the water content evaporates from the paint. These effects are normal and hardly noticeable.
What surfaces can I paint on?
Wood panels are preffered due to their rigidity. This keeps your artwork's integrity intact.
Acrylics will adhere to most surfaces. With our paints, if it sticks, it fits.
I have more questions!
Click the link to see our full FAQ page
How to use
Step 1
Hold the bag horizontally and simply snip off the end. We recommend cutting at least half an inch for general purpose.
Step 2
At a slight angle, twist the back-end and apply some pressure. The bag will be taught and plump.
Step 3
Use your hand to guide the flow of paint at the opening and use your dominant hand to squeeze with ample pressure.
Step 4
Cover the bottom of a palette knife with one of our Mid-Viscosity acrylic colors. Lightly glaze the knife over the Heavy Texture for a variegated effect or mix thoroughly for an opaque color
Step 5
Pinch the opening of the piping bag to remove a little bit of paint. Secure the bag with one of our gaffrey bag clips to store for later use.
That's it! Get to paintin'
Our Heavy Texture acrylics are fully comaptible with all acrylics. Make your work more dynamic using simple palette knife and piping bag techniques.
best paint I've used!
I have always wanted to sculpt with paint and this is the best material for that! It is affordable and has the perfect consistency.
Great pink, not too sweet
This is a fun pink, not too sweet. I used it on several paintings to pipe flowers. Yummy texture and gloss.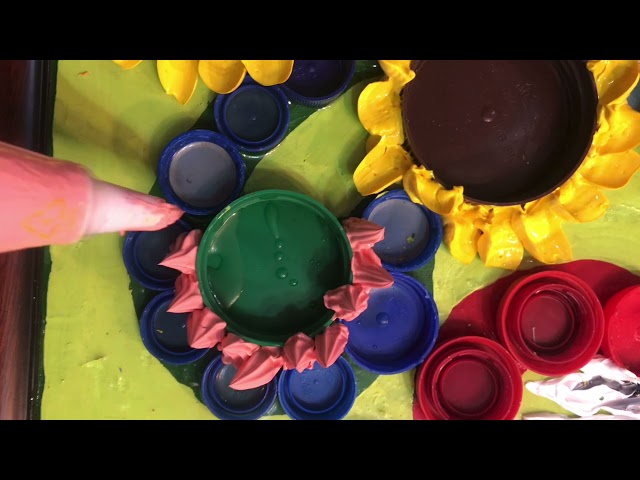 Love it
I just got my new paints and did a test and I also in love with this paint.... I will be ordering more.
Thank you so much!
Best heavy body paint in the universe
To say I am addicted to using Gaffrey heavy body acrylic paint is an under statement! Everyday in my art studio I am constantly reaching for my faithful piping bag of thick, luscious and creamy Gaffrey acrylic paint. I use all of their colours and rose quartz is definitely one of my favourites.