Clear Heavy Gel Gloss Medium
Description
Technical Details
Our Clear has all the magnificent properties of our heavy texture acrylic paints without the pigment. This allows you to control your own pigment strength by mixing our "acrylic colors" to make your own color creations. Colors will appear darker than they appear once dry. Plan ahead of time to compensate for color change. May also be used as an adhesive for mixed media projects or thickening your acrylic paints. To achieve full transparency, apply in thin layers. Otherwise, thick layers may appear opaque until fully dry. May require several days or weeks until fully dry to be transparent. The suggested mixing ratio is 10-25% acrylic colors added to Clear for maximum thickness.
Clear Heavy Gel Gloss Medium
FAQ
How long does it take to dry?
Dry times are based on the amount of paint used, temperatures, and humidity levels. You will notice the paint film forming after 30-60 minutes and the paint will be tacky to the touch. Once the paint film is set, the paint will take several days to a week to fully dry. Lower temperature and higher humidity levels will extend the dry time. Constant airflow from a fan will speed up the drying process, as will access to the underside of the canvas or board.
Does your paint crack?
On its own will not crack. Our formula is designed to be flexible and durable once dry. Certain factors may cause the paint to crack; such as diluting with water, mixing paints or mediums from other brands, applying the texture to uneven surfaces or canvas, adding too much medium viscosity colors, and extreme temperatures.
Do I need to varnish over the texture areas?
Varnish is optional. Our acrylics are archival quality and adding a varnish is up to the artist's preference. We currently do not offer varnishes so exercise caution when using from other brands. We are not responsible for the effects a varnish may have on your artwork if it causes unwanted effects.
What does the paint look like once dry?
Our heavy texture acrylics have a glossy finish that looks the same wet to dry in most cases. All acrylic paints will dry slightly darker due to the milky color of acrylic emulsion when wet. Shrinkage will occur once the water content evaporates from the paint. These effects are normal and hardly noticeable.
What surfaces can I paint on?
Wood panels are preffered due to their rigidity. This keeps your artwork's integrity intact.
Acrylics will adhere to most surfaces. With our paints, if it sticks, it fits.
I have more questions!
Click the link to see our full FAQ page
How to use
Step 1
Hold the bag horizontally and simply snip off the end. We recommend cutting at least half an inch for general purpose.
Step 2
At a slight angle, twist the back-end and apply some pressure. The bag will be taught and plump.
Step 3
Use your hand to guide the flow of paint at the opening and use your dominant hand to squeeze with ample pressure.
Step 4
Cover the bottom of a palette knife with one of our Mid-Viscosity acrylic colors. Lightly glaze the knife over the Heavy Texture for a variegated effect or mix thoroughly for an opaque color
Step 5
Pinch the opening of the piping bag to remove a little bit of paint. Secure the bag with one of our gaffrey bag clips to store for later use.
That's it! Get to paintin'
Our Heavy Texture acrylics are fully comaptible with all acrylics. Make your work more dynamic using simple palette knife and piping bag techniques.
Incredible!
This paint is an absolute dream! Its so thick and holds texture better than any other paint/gel medium/molding paste ive used. Ive been piping flowers, and this paint is so heavy and beautiful that the flowers NEVER droop or mush together. The petals stay perfectly defined!
FINALLY!
I've never enjoyed painting so much since I made my first purchase Feb. 2022. Less than 6months and I've FINALLY finished AND hung my art work in my home. Generally i'm super insecure about showing my work so it just stays in my little studio in the basement. Now I've hung 2 large paintings. I'm about to complete a 3rd. I get so excited to have people to touch it! That's my favorite part when I show it. They are always shocked to hear that it's all "just" acrylic paint. Some don't believe me…so, Of course it gives me the chance to tell them about "the artist who created his own paint line so he could paint the way he likes to paint." Luckily his venture out to be good news to many! Im betting hood fortune to some as well :) Anyhoo! I'm about to make another order. I really hope you get some chartreuse in soon! Or some of the background colors?! Love the updates you've made to the websites!
So many artistic possibilities!
THANKS for creating this much needed heavy texture paint. I will be ordering more!!
Sculpting Blue Birds
Gaffrey paint is allowing me to do things I didn't know were possible with paint. Here is am sculpting 3D blue birds and a nest. I'll post the second video in a review on the black paint.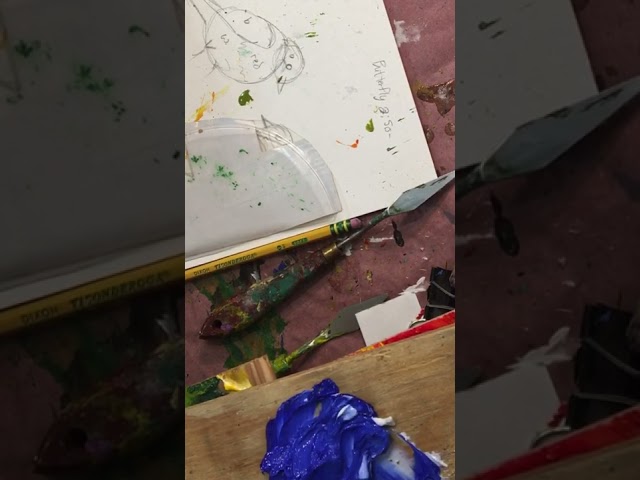 Stacks up well against its competitors
At $60 per gallon you can't beat Gaffrey heavy texture gel. It's every bit as good as Liquitex and better than Golden. I was impressed with the high peaks, clarity and low odor. I'll be a return customer that's for sure!