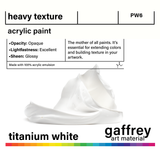 Titanium White Heavy Body Texture Acrylic Paint
The Mother of all paints, this is the essential white you know and love, crafted into our signature Heavy Body Texture. Our Titanium white is the foundation for our paint-sculpting techniques. Use this white as the base for palette knife techniques with our Acrylic Color Collection, utilizing our specialty packaging, designed to optimize application for sculpting, and limit waste. 
The true worth of Titanium White isn't just its familiar versatility. This opaque and glossy white has excellent light fastness, meaning it wont yellow and fade over time. Its glossy sheen makes this an extremely versatile acrylic, essential for extending the color and hues of our Acrylic Color Collection. If you want to add texture to your work, this is your starting place. 
Titanium pure and neutral white is made from the best inorganic pigments on the market. There's not much more to say. These pigments allow strong tinting, and a glossy easy to maneuver body. Get your Titanium White, and start your paint sculpting journey. 
---