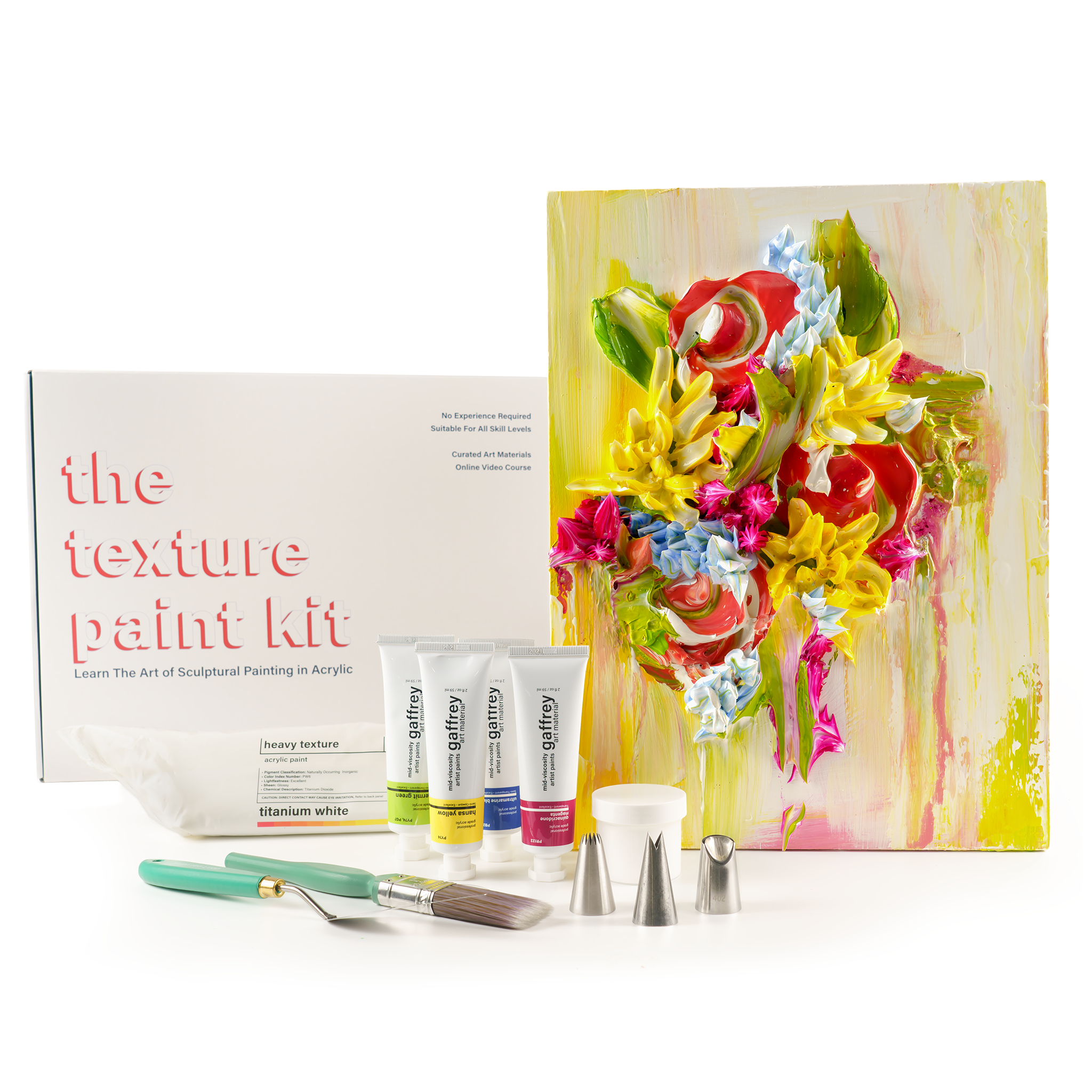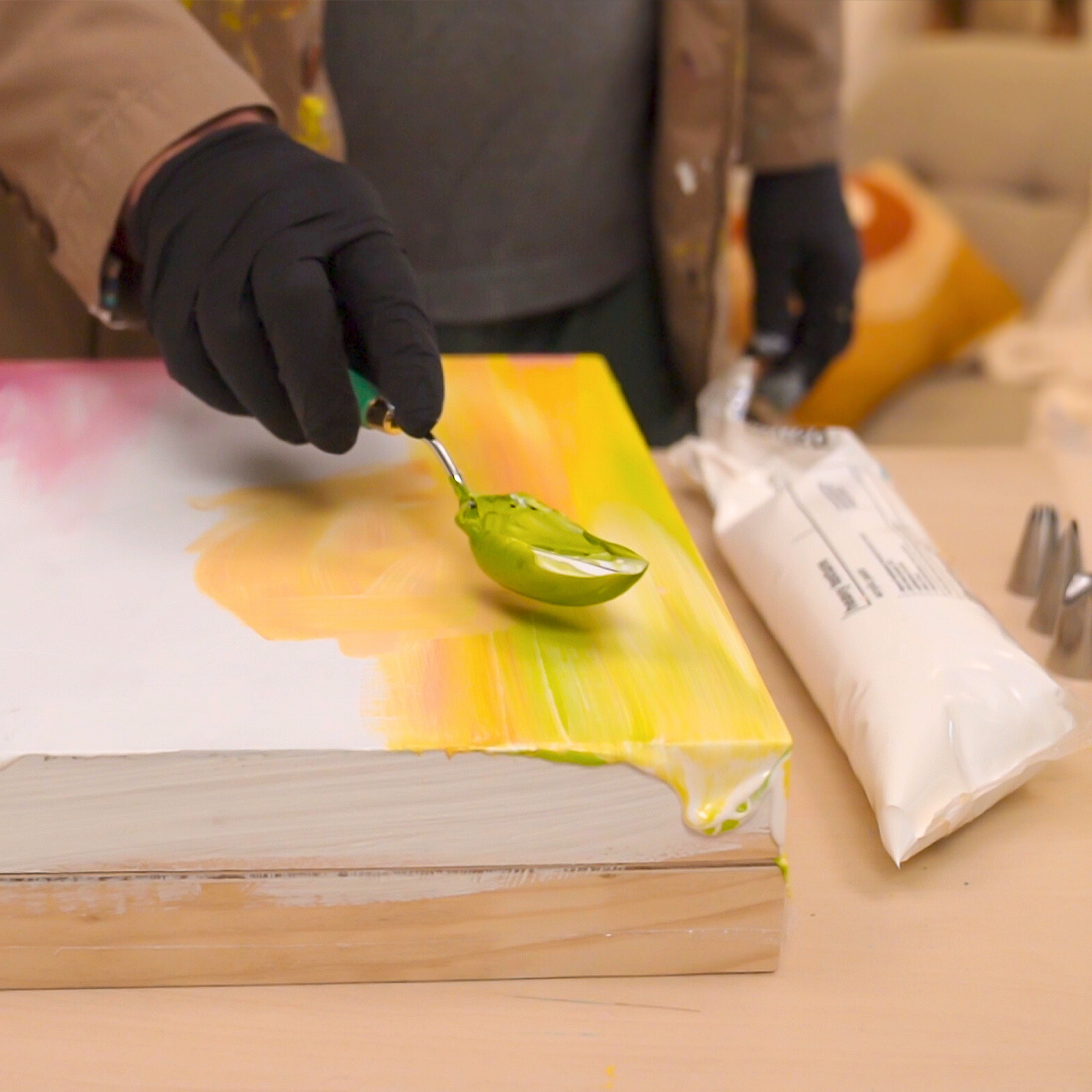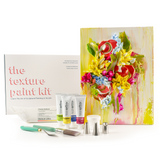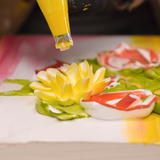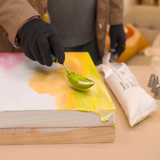 Abstract Floral Texture Acrylic Paint Kit
Choose Size/QTY and Then Add to Cart
Your Artistic Journey Starts Here. Create a finished, sculptural-acrylic painting EASILY! The Abstract Floral Paint Kit is an all-in-one, make your own adventure painting set. 100% water-based acrylic. Complete with an exclusive tutorial you can stream online. Developed for beginners to learn simple skills, for expert results, in under an hour!
This kit comes with all the materials needed to finish an acrylic painting, in the sculptural style of Heavy Body Texture. Justin Gaffrey developed our sculptural heavy body texture paint to be used with our Acrylic Colors and Base Coat collections. And now, he's sharing the secrets of his unique style, so you can learn simple palette knife and piping skills to take your artwork into the next dimension!
Take a journey into abstract expression. This kit hopes to foster creative freedom, through easy to follow instructions on boundary-breaking techniques for acrylic painting. Art can be intimidating, but we are demystifying the abstract, and making it practical and fun!
Materials
12 x 16 x 1.5 in Wood Panel
32 oz Titanium White Heavy Texture
2 oz Hansa Yellow
2 oz Kermit Green
2 oz Quinacridone Magenta
2 oz Ultramarine Blue
1 oz White Base Coat
2022 Spade Palette Knife
1 in Panel Brush
Assortment of piping bags and tips
Disposable Palette
---
Online Tutorial
You'll receive a unique pin number and instructions to stream the video.
Beginner Friendly
Engaged learning for the novice and delightful tips for the pros.
The Perfect Gift
Give the gift of creativity to friends and family at an affordable price.
The Texture Paint System
Heavy Body Texture is the world's first 3-D acrylic paint. That can seem intimidating, but our tutorials will teach you simple palette knife and piping techniques with our full range of acrylics. These kits aren't just easy, they're fun and informative. You'll use these techniques forever!
An all-in-one Sculptural Paint Kit
We've bundled everything you need: Acrylic Colors, Heavy Body Texture, wood panel, piping bags, piping tips, paint brush and palette knives. Art can be daunting and we want you to get a win. These step-by-step tutorials will have you finishing an expert painting in under an hour.
Video Tutorial with Justin Gaffrey
Justin invented Heavy Body Texture to fulfill his need for a sculptural acrylic. His techniques reflect that self-taught style. Justin wants to share his secrets with you, so you can know the freedom of creative expression. Don't miss out on these in-depth tutorials with the master of Heavy Body Texture!