Clear Heavy Gel Gloss Medium
Our Clear has all the magnificent properties of our heavy texture acrylic paints without the pigment. This allows you to control your own pigment strength by mixing our "acrylic colors" to make your own color creations. Colors will appear darker than they appear once dry. Plan ahead of time to compensate for color change. May also be used as an adhesive for mixed media projects or thickening your acrylic paints. To achieve full transparency, apply in thin layers. Otherwise, thick layers may appear opaque until fully dry. May require several days or weeks until fully dry to be transparent. The suggested mixing ratio is 10-25% acrylic colors added to Clear for maximum thickness.Clear Heavy Gel offers the same great qualities as Heavy Texture acrylic paints, except without the addition of any pigment. With this medium, you can determine your own pigment levels and make customized color combinations by thoroughly mixing our Acrylic Colors together.
Colors will darken upon drying, so plan accordingly. This product may also be used as an adhesive for mixed media projects or to thicken acrylic paints. To maintain maximum transparency, apply in thin layers; thick layers may appear opaque until completely dry. This product may take several days or weeks to fully dry and become transparent. For optimal thickness, a 10-25% mixture of Acrylic Colors and Clear is recommended.
---
FINALLY!
I've never enjoyed painting so much since I made my first purchase Feb. 2022. Less than 6months and I've FINALLY finished AND hung my art work in my home. Generally i'm super insecure about showing my work so it just stays in my little studio in the basement. Now I've hung 2 large paintings. I'm about to complete a 3rd. I get so excited to have people to touch it! That's my favorite part when I show it. They are always shocked to hear that it's all "just" acrylic paint. Some don't believe me…so, Of course it gives me the chance to tell them about "the artist who created his own paint line so he could paint the way he likes to paint." Luckily his venture out to be good news to many! Im betting hood fortune to some as well :) Anyhoo! I'm about to make another order. I really hope you get some chartreuse in soon! Or some of the background colors?! Love the updates you've made to the websites!
Incredible!
This paint is an absolute dream! Its so thick and holds texture better than any other paint/gel medium/molding paste ive used. Ive been piping flowers, and this paint is so heavy and beautiful that the flowers NEVER droop or mush together. The petals stay perfectly defined!
So many artistic possibilities!
THANKS for creating this much needed heavy texture paint. I will be ordering more!!
Sculpting Blue Birds
Gaffrey paint is allowing me to do things I didn't know were possible with paint. Here is am sculpting 3D blue birds and a nest. I'll post the second video in a review on the black paint.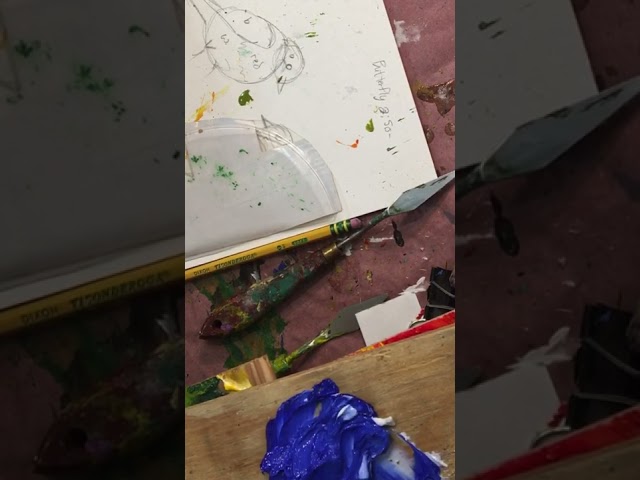 Stacks up well against its competitors
At $60 per gallon you can't beat Gaffrey heavy texture gel. It's every bit as good as Liquitex and better than Golden. I was impressed with the high peaks, clarity and low odor. I'll be a return customer that's for sure!