Pyrrole Red Heavy Texture Acrylic Paint
Features
Description
Technical Details
Gaffrey Heavy Texture Acrylics are the first of its kind, blurring the boundaries of painting and sculpture. This professional-grade artist paint is super thick, buttery smooth, and saturated with pure pigments. Carve into this pigment-rich texture with knives and brushes to create lifelike multi-dimensional artwork.
Formulated with 100% acrylic emulsion and pure pigments, our signature acrylic paint is the real deal with no fillers or toxic additives. No additional thickening mediums are required. Heavy Texture acrylics work in unison with the full range of gaffrey acrylic mediums to evoke a sense of liveliness and depth only our products can accomplish.
Pyrrole Red Heavy Texture Acrylic Paint

•Pigment Classification: Synthetic Organic
•Color Index Number: R 254
•Opacity/Transparency: Opaque
•Sheen: Glossy
•Chemical Description: Diketopyrrole-pyrrole
•Pigment Description: Bright red with slight blue undertones. Pyrrole Red is derived from DPP pigment also known as, "Ferrari Red" which was made popular by the sports car. Use this color as your primary choice for a bold red.

Pyrrole Red Heavy Texture Acrylic Paint
How to
Step 1
Hold the bag horizontally and simply snip off the end. We recommend cutting at least half an inch from end for general purpose.
Step 2
At a slight angle, twist the backend and apply some pressure. The bag will be taught and plump.
Step 3
Use your hand to guide the flow of paint at the opening and use your dominant hand to squeeze with ample pressure.
Step 4
Cover the bottom of the palette knife with one of our Mid-Viscosity acrylic colors. Lightly glaze the knife over the Heavy Texture for a variegated effect or mix thoroughly for an opaque color
Step 5
Pinch the opening of the piping bag to remove a little bit of paint. Secure the bag with one of our gaffrey bag clips to store for later use.
FAQ
How long does it take to dry?
Thin films of the paint, under an inch, will dry to the touch in 45 to 60 minutes. Thicker films of the paint exceeding several inches will dry to the touch in under 24 hours. Once film formation occurs, the water slowly evaporates from the texture and takes several days to a week to be fully dry. Environmental conditions will effect workability and dry time. Constant airflow from a fan will significantly speed up the drying process when your finished.
Can I blend other acrylic colors with Heavy Texture?
Absolutely! Mix thoroughly with a knife using any gaffrey paint to have a solid color or glaze other colors over the texture for variegated color patterns.
How long will it take for a color to be back in stock?
We are a small family company making all of our acrylics in small batches and packaging the paints in our warehouse. Making paints from scratch is not an easy task and requires extreme attention to detail. Our best sellers take priority in the production queue. It can take anywhere from several days to a month to restock a color. Certain factors such as supply chain issues for raw materials can cause delays we are not in control of.  
Do I need a varnish?
Varnish is optional. Our acrylics are archival quality and adding a varnish is up to the artist preference. We currently do not offer varnishes so exercise caution when using from other bands. We are not responsible for the effects a varnish may have on your artwork if you mess it up.
Info
Shipping & Returns
Free shipping on orders over $50 for the contiguous U.S On average it takes 3-5 days for your order to be received once your order is fulfilled. International shipping only for Canada at this time.
Get in touch
As an artist run paint company, we value your feedback and committed to meeting your needs as a painter. Want to request a color? Talk about painting? Send us an email We're here to help!
Paint and artist tool all in one
You won't believe what you're capable of
Our piping bag was intuitively designed to control the flow of paint as an instrument. This bag allows you to assemble color and texture to make your work more dynamic.
Say goodbye to thickening mediums
Pigment Rich Texture
Heavy Texture acrylics eliminate the need for mixing mediums saving you time and money. No more molding pastes, gels, gesso, or guess work for adding texture to your art. We did all the hard work for you getting the ratios of acrylic to pigment just right so you'll have consistent pigment-rich texture every time.
No barriers for entry
Art isn't for everyone but is for anyone
The founder, Justin Gaffrey, is a self taught texture artist with a prolific art career spanning several decades. After years of using conventional acrylics from other paint companies, Justin was unable to find the right art materials to paint the way he wanted. So he invited his family to take matters into their own hands creating the first of its kind sculptural acrylic paint. This paint goes against conventional methods of painting freeing artists to have fun in the process by utilizing simple palette knife and piping bag techniques. Once you get your hands in the paint, it's hard turning back.
Sculpting 3D Fire Ants
This flower piece was too sweet for my mood so I decided to add fire ants with appendages made from scrap wires. It was fun figuring out how to make the ants come up off the surface of the art, something I never knew was possible until using Gaffrey Art Material. Pro tip: when painting on unusual surfaces, seal them first so that the paint won't peal off after it is dried.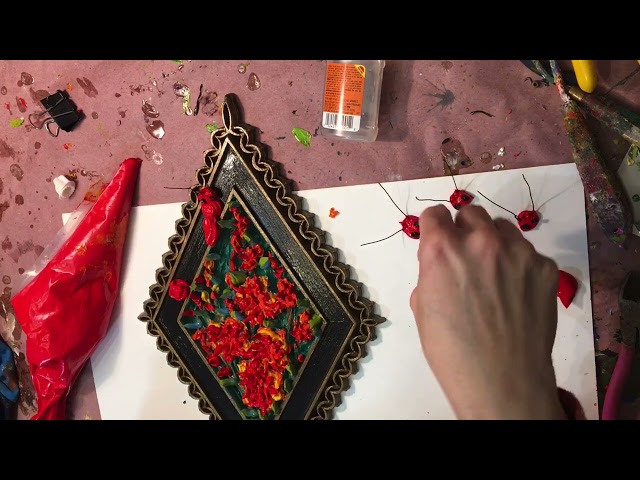 Love the texture
Absolutely love working with these supplies.
Pyrrole Red - Thick, Shiny, and Bold!
Gaffrey's Pyrrole Red is my go-to heavy texture paint when I'm needing that 'Cherry Bomb' pop of color in my work. It's a real attention getter, and people always want to touch the piece to see what it's made out of. I say go ahead!! You can't hurt the paint, it drys hard as nails. Love love love Gaffrey's heavy texture acrylics, so I keep going back over and over again for more ;)